The Rolling Stones
Let It Bleed
DSD Remastered issue


Originally released (UK): 28 November 1969
Let It Bleed is an album by English rock band The Rolling Stones, released in December 1969. The follow up to Beggars Banquet (1968), it appeared shortly after the band's 1969 American Tour. [...]
Recorded under trying circumstance owing to the band having reached the final impasse with Jones, the album has been called a great summing up of the dark underbelly of the 1960s. In addition to being one of their all-time classics, Bleed is the second of the Stones' run of four studio LPs that are generally regarded as among their greatest achievements artistically, equalled only by the best of their great 45s from that decade. The other three albums are Beggars Banquet (1968), Sticky Fingers (1971), and Exile on Main Street (1972).
Released in December, Let It Bleed reached #1 in the UK (temporarily knocking The Beatles' Abbey Road out of the top slot) and #3 on the Billboard Top Pop Albums chart in the US, where it eventually went double platinum. The album was also critically well-received.
(from Wikipedia)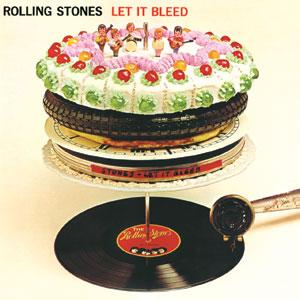 I guess the question is: "Why do we need this when we have its official CD counterpart?". Honestly this is the same question I asked myself and the answer was I didn't need to acquire the vinyl record. Then one day a friend of mine (the same lad who lent me the U2 singles, God bless him) took his vinyl to my home and said "let's give this a spin". I thought I'd transfer it while it was spinning.
The vinyl was very quiet and sounded very good, these ABKCOs must be nice pressings. As there was no need to work hard on pop/click removal (except for "Love In Vain") I decided to go on.
Some guys at the Steve Hoffman Forums think the vinyl version sounds better than the CD. Honestly I can't detect a big difference. As it often happens the vinyl has a worse noise floor, due to my equipment as well (I left the gaps between the songs intact) and the CD is slightly less warm. Waveforms are very similar in comparison, the spectrum has a drop-off on the CD version around 21kHz, but I wonder if anyone could notice that (I could not).
So if you want to take a ride, you're welcome. I do know it would have been better to get a rip from a mint original UK pressing from 1969 but you know,
you can't always get what you want
.
Track listing:

1. Gimmie Shelter
2. Love In Vain
3. Country Honk
4. Live With Me
5. Let It Bleed
6. Midnight Rambler
7. You Got the Silver
8. Monkey Man
9. You Can't Always Get What You Want

Total running time: 42:15
Source info
:
Label: ABKCO
Catalogue number: 882 332-1
Matrix numbers: 882 332-1 A | 9004-1A (Side 1) // 882 332-1 B | 9004-1B (Side 2)
Condition: new
Quality
: 16 Bit / 44.1 kHz (redbook)
Setup and procedure
:
ABKCO LP > Pro-ject TT with Ortofon OM cartridge fitted > Denon Integrated Amplifier > Click Repair* > Cool Edit Pro 2.0** > FLAC Frontend 1.7.1 (FLAC encoding level 8) > Trader's Little Helper 2.2.2
* declick: 10, decrackle: 3
** manual operations: adjusting DC bias, manual removing of residual clicks and pops, "tweaking" to reduce some distortion (no re-EQ), normalising, making the cue index points.
Checksum
: MD5 and FFP files are included
Cue sheet
: a cue sheet file with gaps is included.
Artwork
: no artwork included (sorry).
Hope you'll enjoy this.
All the best
---McCannon
P.S. This will be posted in the next few days at the green creature.